Kiyon grew up in Laytonsville, Maryland, a small suburb outside of Baltimore. His mom was a single parent who raised him and his two older siblings, a brother and a sister, with help from his aunt and grandmother. Kiyon describes his mother, grandmother and aunt as very strong women who emphasized the core values of hard work, extreme perseverance as not only the building blocks for achievement, but also the path to experiencing lifelong joy.
PR4P: When did you first know that dance was your destiny? Was it a single epiphany or a gradual realization that became apparent over time?
KG: I became a dancer by accident. As a child I was always artistically inclined. I was in the drama club and played the flute in the school band. My older brother and sister called me the weird child because I was always watching PBS, engrossed in opera or ballet. I had a lot of energy in my classes, so my mother and aunt enrolled me in tap lessons. I was about ten and loved moving. My tap teacher suggested that I take ballet to improve my movement. Soon I was in a small ballet school and the only boy in the class. Later as a freshman in high school, I joined the Baltimore School of the Arts TWIGS program that was offered to inner-city kids. I became totally invested in ballet and when things became challenging, I put in extra time. I don't like to fail and I cannot imagine anything but giving everything my best, always.
PR4P: In the dance world, who are the people who influenced you, or who mentored you?
KG: On this quest to become an African American male dancer in classical ballet, four people in particular mentored me: Roberto Muñoz, Peter Boal, Francia Russell and Kent Stowell, these are the four people who stand out in my memory and were integral to me becoming a ballet dancer. Roberto Muñoz was my first male ballet teacher at Baltimore School of Arts; he spent countless hours with me to help me to catch-up. I didn't start in ballet until I was 12. Roberto saw that I was willing to work hard and he spent many hours with me.
When Peter Boal was at the School of American Ballet (SAB), he was one of the few faculty members who believed in my talent and dedication to hard work. He told me I was talented and told me it was possible to achieve my goal. Then later at PNB Peter Boal gave me roles and promoted me to soloist. He also appointed me to be the Next Step program manager.
Peter Boal, Kent Stowell and Francia Russell saw me as being beyond the typical ballet body and as someone who works hard, puts in the time and is a great dancer.  Peter Boal, along with Francia Russell and Kent Stowell, believed in me and supported me, and this is how my dream to become a professional dancer came true. 
PR4P: Among all of your performances, which are your favorite?
KG: I've had many moments on stage, but four performances in particular were my best moments. Twyla Tharp in The Upper Room and I was cast as one of the stompers,  and for me, it was natural fusion.  I had one of the moments on stage where the artistry was just pouring out of me.
In Forgotten Land, I danced with Carrie Imler. She is one of my dance heroes. She works so hard.  She has had adversity in her career and has always worked hard.  To be dancing on stage with one of my favorite dancers—it was the best!
Crystal Pite's Emergence reinvigorated my joy and love of dance! She has a way of working with dancers that made me feel valued and encouraged.  I had just come back after surgery and she choreographed a style of movement I had not explored before. Having the added challenge to learn a new way of movement brought everything together for me in the last stage of my career. It reminded me: this is why I dance.
Playing Puck in a Midsummer's Night Dream gave me a deep appreciation for acting and how the audience came to connect with me while I was performing.  I had always been pigeon-holed as a joyful dancer.  Performing as Puck, a woodland nymph who was always up to trouble, made me embrace that I don't have to be myself to experience joy because I got to play a different person. I also found a way to portray his story to thousands of people and that made me have a deeper appreciation for the art form. How do I get my audience to be my ally? Can I bring them along for the ride?  When I do something and the audience laughs, I know they understood and the connection was made.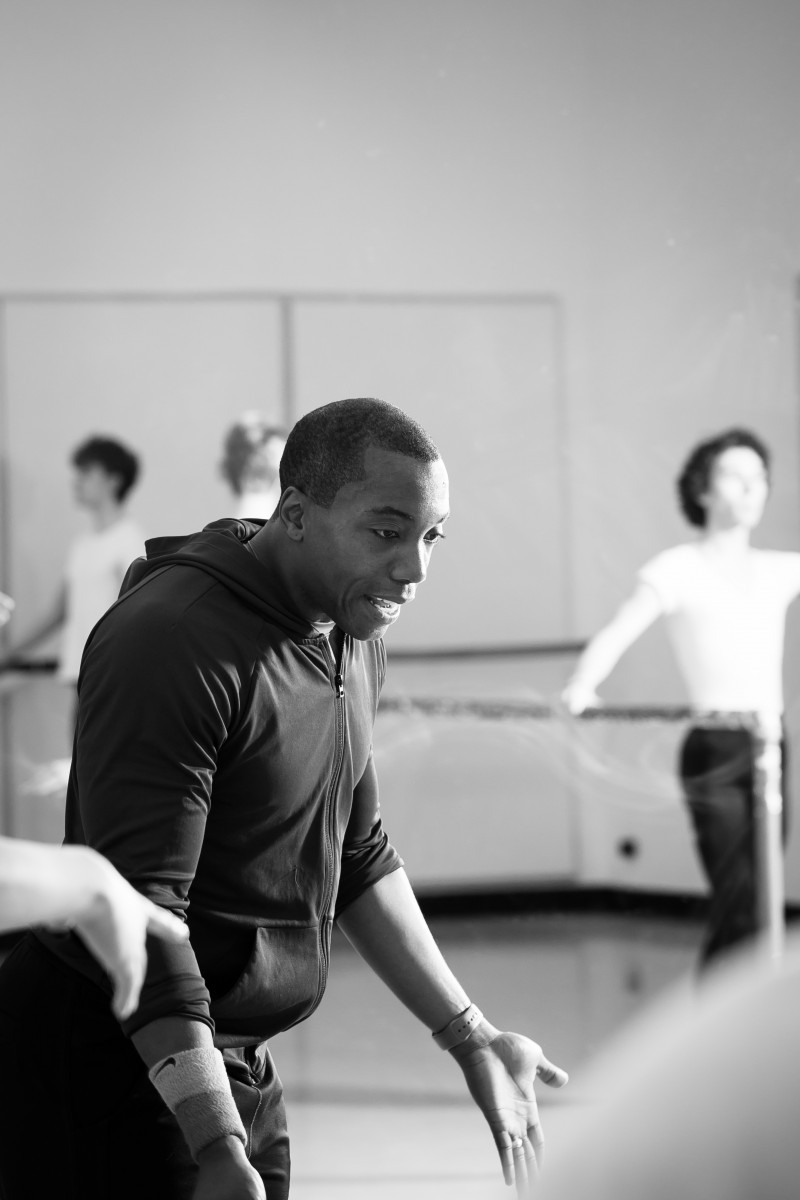 PR4P: How has your career as a dancer shaped who you are as a person?
KG: Obtaining the success I had in the dance world is a credit to my desire to succeed. I have perseverance and a work ethic that is unshakable. My core values mean never giving up.
The benefits of dance carry over into everything that we do well in life. To be a better citizen and to be more focused. The negative influencers or the people who stood in my path also shaped me because I learned that's not the kind of mentor I want to be to my students. You never know what you're capable of until you face obstacles that could destroy you.  My career as a dancer has made me physically strong and mentally strong, and able to overcome obstacles. Even when I'm dealing with obstacles, I try to find a little joy every day. Joy is accessible if you look for it.
PR4P: What is the biggest challenge or obstacle that you faced as a professional dancer?
KG: There a lot of obstacles. I started in ballet when I was on the verge of being a teenager. Being a male in a stereotypically female profession led me to be teased and taunted by other kids. I had to be mentally strong to not let other people negatively impact my goals or to steal my joy. I didn't have a typical ballet body. I was strong muscular and compact and that was challenging for my career. It was difficult also to find a place where I could thrive. Peter Boal, Francia Russell and Kent Stowell gave me a chance where other people were not willing to give me a chance. They valued my work as a member of PNB.
PR4P: Tell me something that you haven't mentioned to press before that people would be surprised to know about you?
KG: Since I've retired. I've been doing a lot of things in my private life. I took up snowboarding. I got totally obsessed and took 20 snowboarding lessons. Tennis is also one of my new hobbies. I work with a private coach. Learning new sports is easier for me because as a dancer, I'm agile, have strong balance and I'm accustomed to transferring my weight. I love my new hobbies because they were easy to learn or I love them so much that love made it easy to learn. Tennis and snowboarding are new ways to move my body. This month, I will be playing in the Boeing USTA Holiday Open.
PR4P: Some of your students have described you as an extraordinary teacher. What makes you different from other dance teachers?
KG: First thing, I've just retired from stage. I'm still mobile and have lots of energy. I'm there, energized, excited, and I'm into it. My goal is to share my talent and gifts with my students. In my teaching, I always give a little sugar with the medicine.  While you are working hard at what you're doing, I do my best to encourage my students so they can see their own improvement.
I'm honored and humbled that people like learning from me. I want my students to feel like they're really learning how to dance and by dancing what it feels like to be free. 
PR4P: What is your advice to young, aspiring dancers?
KG: Always try the hardest. You have to work hard especially in something as demanding as ballet. Young dancers need to cross-train.  Your body needs to be ready to take on the increasing demand.  It's not enough to keep your body in form. Choreography gets more intricate with the influence of Contemporary and Modern. Dancers are asked to dance on pointe and then to dance low to ground. They need to be strong and adaptable. Cross-training means working with therabands and bosu balls and doing triceps extensions, planks, crunches and more. You have to be strong to be a dancer and get into the habit of taking care of your body. Young dancers need to learn the vocabulary of dance and watch top dancers in all type of performance, both live and on video.
PR4P: Do you have any special holiday traditions that you'd like to mention?
KG: My husband and I have been married for two years and every year we drink hot toddies and listen to Christmas music, and in the morning open presents by the fire. It's just me and Tyler. The holidays are about spending time with the people you love.