Wonder Ndlovu is founder of Mbula Research and Development, a technology-based start-up that focuses on uncovering digital & innovative solutions and bring them to life. He holds a Master's Degree in Entrepreneurship and New Venture Creation and a Degree in Software Development among others.
He delivered innovations in collaboration with mobile operators in Africa, environmental and the United Nations agencies to address Millennium Development Goals 2015 for the purpose of social innovation, business growth and economic development. He has now successfully launched and commercialized the REAH app, Future Coding and Y Business of Tech Radio Show.
 REAH is a digital platform that bridges the communication barrier between hearing and non-hearing people, anywhere and anytime.  REAH enables you to simply search for the words you want to sign and start the conversation. It is called 'REAH', from 'hear' written backwards.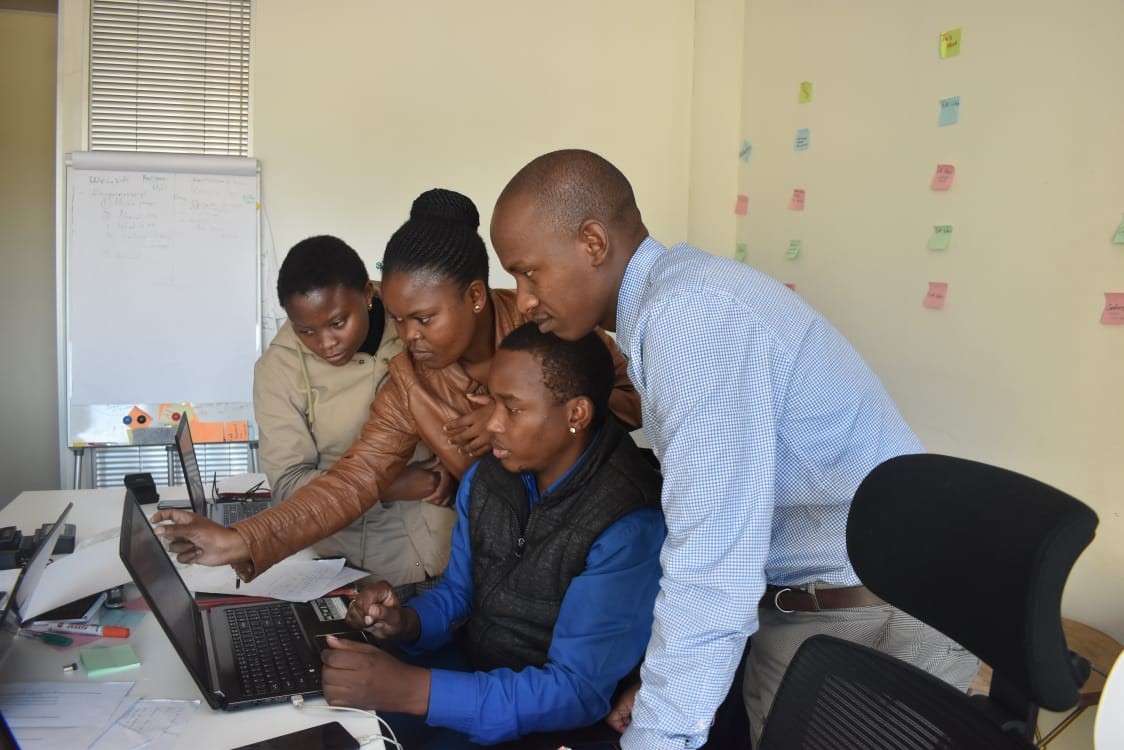 His Future coding is a technology platform that envisions itself as a pipeline for Deaf youth to learn to code.  His Y business of Tech radio show is a concept which aims to bring about awareness, education and opportunities about #4IR. This on-air 1-hour radio show is followed by off-air engagement with young people through workshops.
Wonder tells us how it started.
Although sign language is recognized as an official language, the Deaf community faces many challenges. The most basic is getting a message across to those who can hear and speak. How would you start a conversation or easily find a sign language interpreter? What happens if a Deaf child is born to speaking and hearing parents? What about those who can hear or speak and want to be part of Deaf Community?
What was your inspiration for developing the REAH app?
 As we enter the wave of new technologies, often referred to as Fourth Industrial Revolution, that anyone with intention to participate in #4IR should have freedom to do so.  We ensure that Deaf people are not left behind; instead they are the heart of #4IR. Once they have gained coding skills, Deaf youth can get involved, in accordance our vision of Building a Digital Deaf Community one person at a time.
Can hearing people use the app?
Yes, those who can speak or hear can simply search for the words they want to sign and start the conversation. Thus, at the heart of REAH app, closing the gap between people living with disability and quality lifestyle
Tell us about the children's version of the app.
It is for Kids, whether Deaf or those who can speak or hear to learn and improve their sign language. Some kids are born to parents who can hear and / or speak.  The games make it interesting and test their knowledge using word puzzles, games with different levels of difficulties to improve their problem solving skills.
Does the app have other functions?
Yes, want to urgently chat to a Deaf person, but you don't know how to sign? INSTANTLY CONNECT WITH SIGN LANGUAGE INTERPRETER VIA A LIVE VIDEO for a live Sign Language interpretation, up to 5 minutes for FREE.
REAH helps you to find a Sign Language Interpreter at an affordable rate at your nearest location; be it an event, business, interviews, public services delivery or court proceedings.
  REAH will connect you with available interpreters, shows their rates estimates, make the payment and the service shall be delivered to you.
What makes the app unique?
First, it is developed by Deaf youth for the Deaf Community who do not only learn to code but, also participate in innovation activities which is part of the 12 months training. Second, it has three new features 1) a platform to 'coin' or develop new words that don't yet exist in sign language, such as 'blockchain' 2) find interpreter 3) live sign language interpretation via video.
What skills have you gained during your research for the app?
 I have learned a new language, South African sign language and am currently learning sign language with Wits Language School. Now, I can hold a descent conversation with a Deaf person. The team and I learned more about Deaf culture.
What is the importance of soft skills like creativity, problem solving, reasoning and imagination?
It is unquestionable that there is a relationship between coding, problem solving and imagination. . I deem coding as one of the relevant skills for careers of the future, thus, we are passionate about exposing the Deaf youth to a digital world by developing this skill. My vision is to partake of these soft skills including emotional intelligence to young people so that we can produce a new generation of hardware and software engineers, graphic designers, engineers, solution architects, business analysts, account managers that is ready to exploit future technologies and opportunities.
Did social media help to raise awareness and increase the number of users?
Yes, since we received TV and online news coverage, the conversation continued on social media and received a good number of downloads from app stores and lead to a number of interviews and enquiries from investors and users.
Why are brands failing to market to deaf and blind consumers?
 Society tends to have a general view that technology is for the elite, 'the-have's" particularly technology products and services. If you take the argument one notch higher, society continues to lag behind in relation to providing equitable opportunities; particularly the marginalized and people living with disabilities. Disabled People  are often considered as laggards not early adopters of new products and services. However, this demands a revolutionary change from all of us as we enter the 4th Industrial Revolution to ensure no one is left behind.
Would you agree that society relies more on analytics to make decisions?
Yes, but it is not the only contributing factor for decision making. Whether it is called big data, artificial intelligence or analytics, society will continue to rely on it for the reason that it put a balanced weight on our decision making process.  
In similar trend, isn't it more important to see how something makes you feel, when deciding on it?
As I have articulated on reliance on analytics, depending on each circumstances and contexts, there are instances where emotional aspect will outweigh other factors.  
What would an entrepreneur need to survive change and challenges in our ever-changing high demand surroundings?
Don't be tricked into traditional business approach...do it differently. Here are my 5 business lessons.
1) Do not over promise, rather over deliver.
2) Share big unmatched ideas, start working on the concept on the very same evening and present your first draft of concept the following day. 
3) Take fewer opportunities that do not generate new intellectual property/knowledge, try to chase gigs that create new stuff and knowledge. 
4) Consider your academic studies as a business unit in your company, and don't submit an assignment or thesis that has nothing to do with your business; otherwise it can be a waste of time. 
5)  Knowledge is equally important as is cash.
You are having dinner with a famous entrepreneur. Who would it be and why.
Khanyi Dlomo, she made history in different forms and shapes [laughing]. The first of 'something' had a sterling corporate career and an academic. She is one of the people who inspired me to improve my studies, someone who is not scared of being ambitious. Think of Ndalo Media and other ventures she created.
What are your future plans?
Family.
Be more adventurous.
Earn pilot license.
Complete my PhD studies by 2023.
Build a great team, develop the company's processes and improve our execution rate.
Complete the Apple IOS version of Reah App.
Continue to Build a Digital Deaf Community.
Launch our wearable innovation solution in Q3 of 2020.
Name your favorite quote or mantra to live by.
Anyone with the intention to participate in the new wave of technologies #4IR should have the freedom to do so.
Links
Learn more about Reah App.
Available for download on Android App Store.
https://play.google.com/store/apps/details?id=com.reah.reahapp&hl=en_ZA
https://www.facebook.com/Reah-115921579783623/
https://www.itweb.co.za/content/xA9PO7NYonbvo4J8
https://www.imperiallogistics.com/reports/ar-2019/sustainability/support-relevant-social-imperatives-within-our-operating-regions.php
Learn more about Future Coding
https://www.youtube.com/watch?time_continue=2&v=y4-ASdTucwU&feature=emb_logo
https://www.facebook.com/futurecodingsa/
Y Business of Tech
https://www.facebook.com/ybusinessoftech/
https://www.instagram.com/ybiznizoftech/
https://twitter.com/YBusinessofTech
Mbula
https:://www.mbula.co.za