Balini Naidoo is a vivacious up-and-coming fashion designer. She not only graduated cum laude in 2017, but is already making waves. She was one of the Top 10 designers for the Society of Dyers and Colourists competition 2015, among the Top 25 Vodacom Durban July Young Designers and was chosen to showcase her Btech concept at the Design Indaba Emerging Creative in 2018.
It is however her innovative design for a braille identification system in clothing that is making an impact. It was inspired by a family member who is visually impaired. It made her aware of the many struggles faced by the unsighted on a daily basis, such as clothing identification and choices without assistance.
Her research gave her remarkable insight into the plight of the visually impaired and the basic human right of dignity, self-reliance and independence and as a result, feeling good and comfortable in what they wear; which the sighted might not give a second thought to.
The result is a ground-breaking innovative design of muted colours with a braille identification system printed on the clothing to assist the visually impaired in identifying and choosing what to wear. Most importantly a sense of freedom, which is apt, as she seeks her inspiration from the honourable Nelson Mandela, who said: "It is in your hands to make our world a better one for all."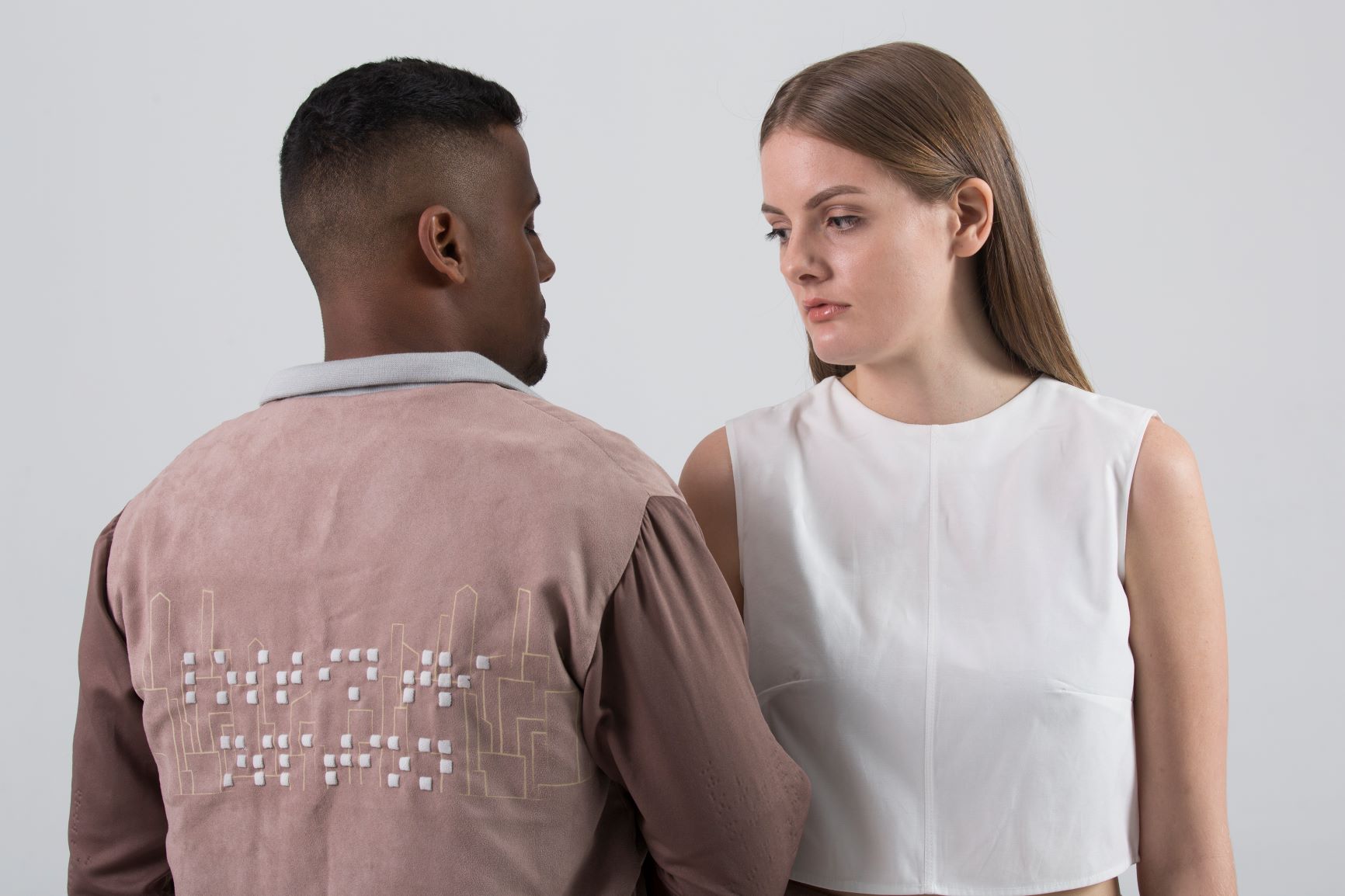 This design reflects her drive to improve and inspire others, which is exceptional in light of the Council of the Blind. The prevalence of sight disability is the highest of all disabilities. Women make up 57 percent of the total number of blind or partially sighted people. The global health organization states that 65 % of people are visually impaired.
We asked Balini some questions.
What skills have you gained during your research of the Braille Identification system and have they been useful in the design?
The importance of communication, especially in terms of Braille. This helped me to improve and formulate the design to aid them in the simple task of getting dressed, which gets taken for granted by the sighted.
You have made your mark, what is the reality of reaching this success?
The reality of creating something never thought of before. The most satisfying is assisting individuals who needs the help.  Most of all this means something and that matters.  Therefore, the success is imperative to me.
You have what it takes to be a contender. Do you feel a heighten sense of expectation for future designs?
Most definitely. The bar has been set to think out of the box, not only for me, but for all upcoming and current designers. The beauty of innovation is that it makes it easier, more accessible and that the community at large benefits. The pressure is definitely there, but the same hot water that makes the potato soft makes the egg hard. I am ready.
Giving back is important to you, how have you involved the local community in your designs?
I am currently busy with skill training and development in disadvantaged communities. These skills are mainly sewing training to empower people to become sustainably employed; which at large also stimulates our economy. I think we all have a debt to society, to give back. My focus is on sustainability and subsequent constant growth.
You're a trend innovator rather than a follower. Any current design directions that resonate with you?
There are so many at the moment, I can't really single one out.
Do you have anything you collect?
Other than my clothes and heels, no there is nothing else I collect.
Which artist and designers do you admire, what is it about their work that you enjoy?
I don't follow trends, though from a young age I admire the work of a local South African designer, Carol Boyes, especially for her work ethics.
What do you have to do to get the experience to be at the top of your game?
You need to experience the field, start from the bottom. You need to understand all the aspects of the fashion industry to be on top of your game.
Health and Wellness versus Materialism – what would you consider to be key to success?
Well, truth be told, it is better to cry in a BMW than on a bicycle. Like all other things in life, balance and perspective is key to living the life you prefer to live. Hard work gets you what you want, but health and wellness give you peace. The balance between work hard and play hard is very important to me. I do not allow myself to get too stuck with materialism.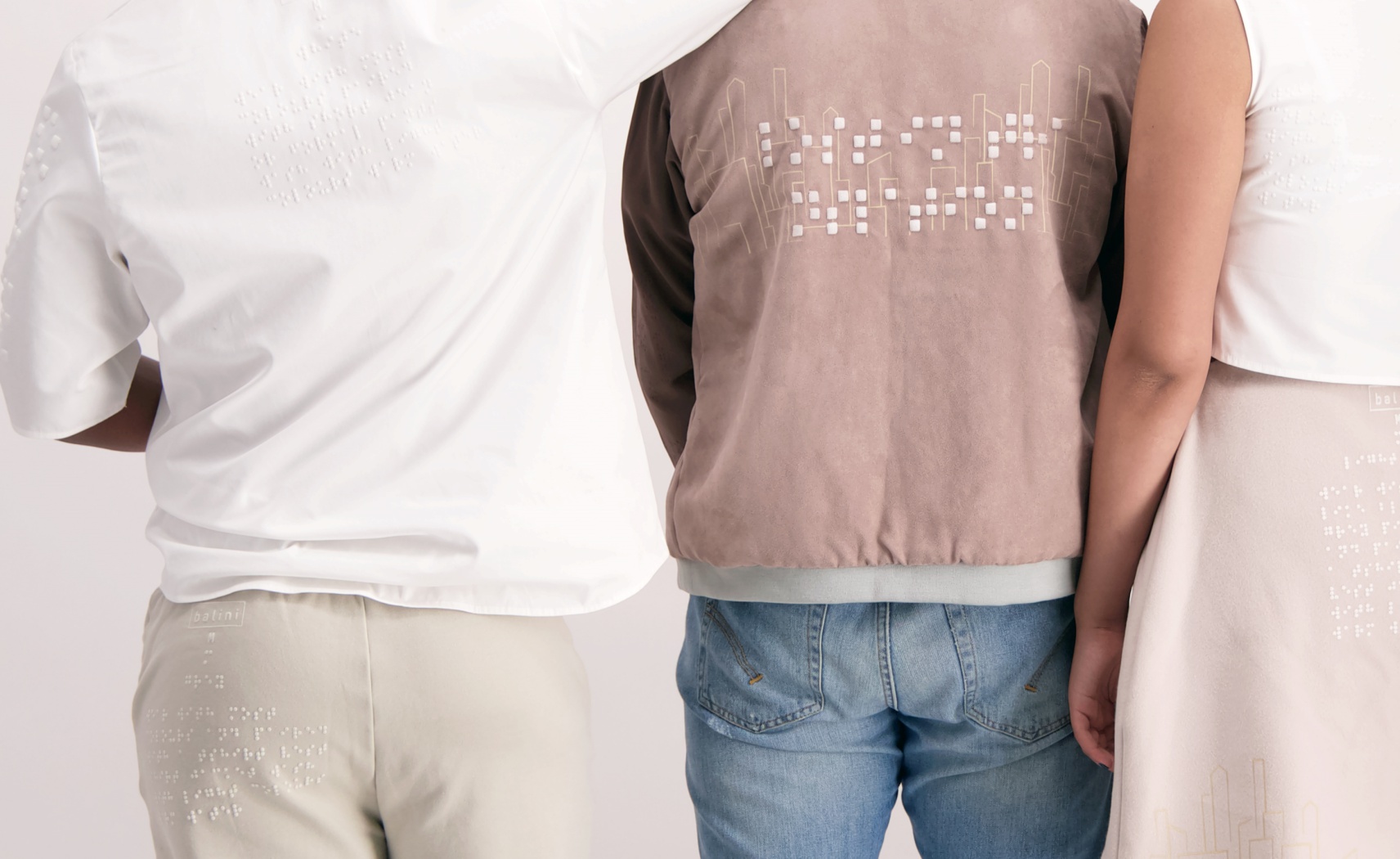 What is your favourite piece of design of all time?
My own creation, the Braille Identification System.
Who would you like to design for and why?
I would like to design for people in need and where there is a need to solve a problem.
What's next, what will you focus on in 2019?
My future aspirations are to encourage more out of the box thinking and address some of Africa's challenges via design. I will continue with skill training, as the youth of local communities need development and upliftment.
I will be launching my online store in 2019. It will stock my cutting edge Braille Clothing Label, BaliniTM Most importantly it will create awareness for the visually impaired and introduce a new way of communication.
Balini's purpose is to debut into the beauty and fashion industry and make a difference. This in a society where morals and integrity are at a decline. Honesty, integrity and charisma are best suited to Balini. It is however her strength that is reflected in her actions. This echoes her mantra of "What we do for ourselves dies with us but what we do for others lives forever."
Website: www.balini.co.za
Instagram:  @balini.co.za
Twitter:  @balini_co_za
Facebook: Balini.co.za
LinkedIn: Balini Naidoo
Email: balininaidoo@yahoo.com