Wipe Out by the Surfaris was an anthem for the city of Yonkers in 1969. My neighborhood in the north end, called Down the End by the locals, trilled and thrummed with the unerring twang of guitars. Every boy on the block, talented or not, musically inclined or musically challenged, had mastered the three simple chords to play Wipe Out on the guitar with unerring frequency, regardless of the season or the time of day. From garages and basements, yards, parks and parking lots, impromptu jam sessions broke out into the ubiquitous street sound of drums humping under the sturm and drang of electric guitars. 
In my novel YONKERS Yonkers!: a Story of Race and Redemption, thirteen-year-old Cookie Colangelo remembers Wipe Out drifting into her yard so often that she wished it would go away, but it was always there, like a soundtrack for a bad movie. The more musically sophisticated boys played the theme song for the TV show Secret Agent Man, sung by crooner Johnny Rivers. Not as many girls had the music thing going on. Some girls sang. Other girls had a flair for finding rock star husbands or getting passed around town as groupies.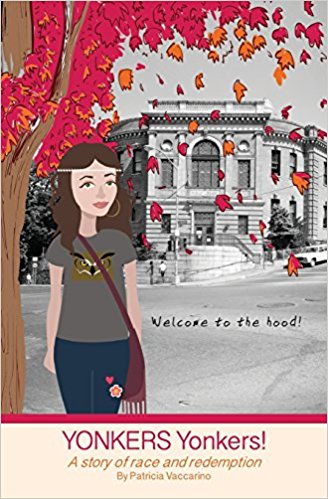 Then there were the girls like Cookie Colangelo. Her affinity for music gave her a way to explore a larger part of herself. Even to Cookie's untrained ear (she could not dance, sing, play an instrument or hold a song in her head), but she still bought the sheet music for the Rolling Stones' Honky Tonk Women from Music Man in Getty Square. Mick Jagger sounded like he sang with marbles stuffed in his mouth, but with the sheet music, Cookie could read what he was singing, sing along with him and learn a thing or two about herself and the world.       
Cookie falls in love with Blind Owl Alan Wilson, the lead singer and guitarist for the rock band Canned Heat. More than a girlish crush or a romantic notion, Cookie sees in the Blind Owl his extraordinary talent and deep sensitivity that mirrors her own. She thinks he will understand her the way no one else could. Certainly no Yonkers boy glomming onto his guitar day after day to play Wipe Out was up to the task of understanding a brooding thirteen-year old girl who spends most of her time writing poetry and dreaming of a finding a way out of Yonkers, a working-class culture that she deems to be both stultifying and racist. 
Other Yonkers girls shared Cookie Colangelo's use of music to explore a larger part of themselves. Reenie Ruggerio proclaimed herself to be a lover of all things black: black music, soul food, black panthers, Bobby Seale, the Black is Beautiful movement, and the first black Congresswoman, Shirley Chisolm. Rumor had it that at Orchard Beach in the Bronx, Reenie Ruggerio tried to tan her skin to turn black. Her hair was parted on the side in a thick wavy weave verging on frizzy in a mock attempt to create an afro. Reenie manifests her black identity in Jimi Hendrix, and that was okay. Music was color blind. The boys in the North End held Jimi Hendrix to be the greatest instrumental guitarist who had ever lived, almost as legendary as BB King.
Reenie Ruggerio loved Jimi Hendrix with the same intensity and reverence that Cookie Colangelo experienced with the Blind Owl Alan Wilson. Their music spoke to them in a way most other things in life could not and engaged them in an intimate conversation with themselves. And even if the conversation was, in fact, only one-sided, it made them feel connected to their larger selves. Being in love with a rock star, even from afar, has its own rewards and risks. When you come to know of each girl's passion, you feel a strange foreboding as thick as Yonkers city grit. A day of reckoning is bound to come. 
Cookie's hero is first to fall. On Thursday September 3, 1970, Blind Owl Alan Wilson had been found dead.  His lifeless body was discovered in the back yard behind fellow musician Bob Hite's house in Topanga Canyon, California. For five days and over the Labor Day Weekend, Cookie tried to find out why he had died, but getting good information was impossible. She stayed glued to the TV but getting news about the Blind Owl wasn't forthcoming. The Blind Owl's death was eclipsed on TV by the sudden death of Vince Lombardi, head coach for the Green Bay Packers. 
There was scant mention of the Blind Owl in the New York Daily News, The New York Post or the Yonkers Herald Statesman. The longest write-up was in the New York Times. A few paragraphs mentioned where he was born, his immediate survivors and his popular songs, Going Up the Country and On the Road Again. The preliminary autopsy reports were inconclusive. It could not be determined whether the Blind Owl had killed himself on purpose or if he had died from an accidental overdose. Foul play had been ruled out.
It didn't matter so much how the Blind Owl had died because for thirteen-year-old Cookie, her world had collapsed. The Blind Owl had flown the coop and he wasn't coming back. Every time Cookie thought about him, the pain rose and fell in  waves, repeatedly pounding the intense chords of Wipe Out by the Surfaris. Even though she was a master of experiencing pain, and creating meaning out of pain, and wanting to work to transform it into another juvenile poem, she fell short in her ability to describe the pain of losing her Blind Owl. She had been punched and had the wind knocked out of her stomach. This had happened before at school, at home, playing with the other kids on the block. But all of those other times had been mostly physical. This time was different. Blind Owl had died, and she wished she was dead too. 
Reenie Ruggerio's hero soon suffered his own fall from grace. Outside in front of Sacred Heart High School, the murmur of voices ran through a crowd of freshman schoolgirls: Jimi Hendrix. Jimi Hendrix. Then, Jimi Hendrix is dead. The words started coming together faster and faster, the way words do when rumors ripple through a crowd.  Jimi Jimi Jimi. Drugs. Paris. OD'd and Overdose. The rumor began to sound an awful lot like the famous black guitarist Jimi Hendrix was dead. It was September 18, 1970.
Cookie immediately thought of Reenie and scrambled ahead, plunging into the midst of the other Italian girls to find her. If she felt awkward about being aggressive, she didn't let on and would not admit it to herself. She had this uncanny ability to turn off her emotions and barrel ahead. She wanted to know what had happened and she was intent on finding out. What's going on, she kept saying to anyone would listen. Where's Reenie? Have you seen Reenie Ruggerio? Girls were crying and some boys were using their hands to mimic playing a guitar. 
Cookie found Reenie standing up against the trunk of a Maple tree. While all the other Italian girls were balling their eyes out, Reenie Ruggerio wasn't crying.  Reenie stood there eyes unblinking, not seeing anything. Her too-tan face was pinched in pain. She was in shock. Sly and the Family Stonestickers were stuck all over her red leatherette and plaid book bag. Her small red lunch box was lying on the ground as if she had dropped it by mistake. Cookie picked up her lunch pail and handed it to her. The girl's eyes looked vacant and she seemed to be holding her breath. She didn't take the lunch pail from Cookie's hands. Cookie set it down on the ground by her feet. 
By October 1970, the Blind Owl and Jimi Hendrix were joined in death by Janis Joplin. Years later, the famous trio, along with Rolling Stone Brian Jones, would form the foundation for the infamously tragic "27 Club," commemorating the unusually high number of famous musicians who died at age 27. Jim Morrison followed soon after. There have been many others since. For Cookie Colangelo and Reenie Ruggerio losing their heroes was an utter wipe out, but it gave them a keener sense of reality. No matter how much they romanticized their heroes, reality seeped in and spoke the truth—they had no one to rely on except themselves. No one was interested in listening to them. No one would understand them. No one would save them from feeling the ragged outer edges of being a teenager. They had little choice but to come to understand their own unique place in Yonkers and in the world.
Select excerpts first appeared in YONKERS Yonkers!: A Story of Race and Redemption by Patricia Vaccarino