The royals are fun, engaging and great fodder for gossip, but spare me. We fought a war to get rid of them. The Declaration of Independence in July, 1776 listed twenty-seven grievances against George III. Among his offenses it was noted, "He has plundered our seas, ravaged our coasts, burnt our towns, and destroyed the lives of our people."
As a working-class kid growing up in Yonkers, I knew I wasn't royal, and I knew I wasn't entitled to anything. Like many working-class kids, I roamed the city in search of adventure. One day when I was ten, not far from Getty Square, I ambled up the rickety steps leading to Phillipse Manor. The Lord of the Manor, Frederick Phillipse III, was a Loyalist to King George III, and had fled the United States to avoid imprisonment for treason.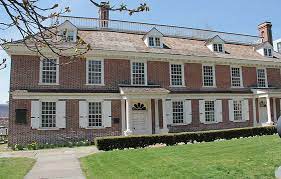 I was alone and Phillipse Manor had been long abandoned. There was no charge for admission. The manor had fallen into a state of disrepair. I pushed open the front door and let myself in. I stood in the entrance hall, eyeing the faded walls that might have been originally painted in a shade of Williamsburg Blue. Most of the old furniture was covered with canvas drop cloths. The wooden floors were threadbare, worn and creaked under my tentative steps. Phillipse Manor resembled a haunted house more than a grand manor attainted during the Revolutionary War in 1779.
What I remember most about that day is the ring I found on the front porch. The gold ring had a square ruby signet. I thought it was spooky that someone had dropped a ring there, but I put the ring in my pocket and scampered away from the house. Over time I held onto the ring. The gold was 10 karat and the ruby was spinel. Not worth much. Still, it was special to me.
Yonkers was steeped in colonial history. From 1776 to 1783, Westchester County was surrounded by American and British forces. Armies, outlaws and local militia plundered the land and the people who lived there. Battles had been fought in neighboring White Plains, Pell's Point and Fort Washington.
While these weren't the most notable battles of the Revolutionary War, the battle at Pell's Point, also known as the Battle of Pelham, was strategically important. The battle stymied the British forces long enough for George Washington to avoid being surrounded on Manhattan island. After losing to the British in White Plains and Fort Washington, General Washington retreated across New Jersey to Pennsylvania, a decisive regrouping that eventually led to winning the war.
Early Americans sacrificed their lives to beat the British. It is why today we are a democratic nation and the highest law of our land is the U.S. Constitution. So when the Archbishop of Canterbury, Justin Welby, placed the 360-year-old St. Edward's Crown on Charles' head, thus sanctifying Charles III, all I can say is: He's not my king. Much fanfare is made of the English Monarchy and especially of the spare heir, Prince Harry. His book deal for Spare fetched upward of 25 million dollars—that's not cheap gold, a fake ruby ring.
From all the hoopla and spin, one can only think that Prince Harry is a really nice guy, but he's royal and royals are irksome because of all of the perks they get for so little work. Harry's book Spare is too slim a story to foist onto the backs of the working people. Yes, millions are spent on legions of professionals who are paid big bucks to keep the royals at the top of the news cycle. There is good reason to watch the royals. It's cheap entertainment for the working class.  Did you know that Dior is honored to have dressed Prince Harry for his limited appearance at the coronation?
So let's watch the royals instead of focusing on the real problems in America that are not at all royal. The real problem could be that America has changed. A majority of Americans might want a king. The nation might be suffering from voter fatigue and people just want someone to tell them what to do, what to watch, how to think, and above all else, what to read, even if it's Spare. 
As for Phillipse Manor Hall, New York State was going to defund it and close it, so even little working-class girls like me could not push open the door and walk in.  The loss of the city's Carnegie Library in 1982 served as a lesson that resulted in saving Phillipse Manor, declaring it to be a landmark. Built in 1682, Phillipse Manor Hall is the oldest building in Westchester County. Today it has been restored, refurbished and is an historic museum that stands in downtown Yonkers--a poignant reminder of America's liberation from English tyranny.