Travis Daigle has compassion for everyone out there who – yet again – has made a list of resolutions to tackle in the New Year. But he warns that goals like losing weight or curbing spending habits are always peripheral to the bigger challenge, which is acquiring the mental toughness to do hard things. 
   Daigle knows whereof he speaks. Before moving to Tacoma and becoming a popular lecturer at the University of Washington/Tacoma's Grit City Monday series, he served in Afghanistan as a Green Beret. 
   But, as he told the audience at a recent TEDx Tacoma talk, when he enlisted in the service at the age of 25, he was an unlikely candidate for the Army's most elite force. 
   "I had never been a great athlete. I had never been on a hike. I had never been camping. I had never shot a gun. And I didn't know how to swim."
   In fact, as a child growing up in Birmingham, Alabama, Daigle had always been the fat kid in school. From a young age all the way through high school, he had been ridiculed, bullied and humiliated – not only by his peers, but sometimes by his teachers. It was a deeply painful experience for him. He had no friends.
   But all of the time he spent alone allowed him to think about how he might move forward. And at the age of ten, he made a remarkably mature calculation – the bullying about his weight "was either going to develop me or destroy me. I was going to give it my best shot."
   He chose to view adversity as something good, something that made him stronger. He didn't have money to join a gym, but he still worked out daily, using rudimentary exercise equipment he'd made himself. This didn't produce immediate results, but Daigle adhered to his workout regimen for seven long years anyway, always thinking about how he could fine-tune it. 
   It wasn't until he was a senior in high school that he learned for the first time that improving his eating habits, in addition to working out, might yield better results. And once he applied that knowledge, the weight came off at last – 80 pounds in eight months. 
   After graduating from high school, Daigle left Alabama and went on to college in Texas, where he earned an engineering degree and got a job in the corporate world. 
   It was a comfortable position, but a bad fit. Daigle realized that he was growing unhappy because he thrived best by tackling adversity, not avoiding it. He liked to go to bed at night utterly exhausted, feeling that he'd expended his utmost effort and left no stone unturned.
   So that's when he decided not only to enlist in the military, but to try out for the Green Berets. 
   In the Army, he was trained in marksmanship and undertook long distance marches. When it became clear that there was no one around who would be teaching him how to swim, he went online and Googled the instructions for basic strokes. Using the work habits he had developed as a teenager – planning, executing, learning from his mistakes, and then refining the plan and trying again, he became proficient enough in all skill sets to be assigned to the Army's elite Special Forces.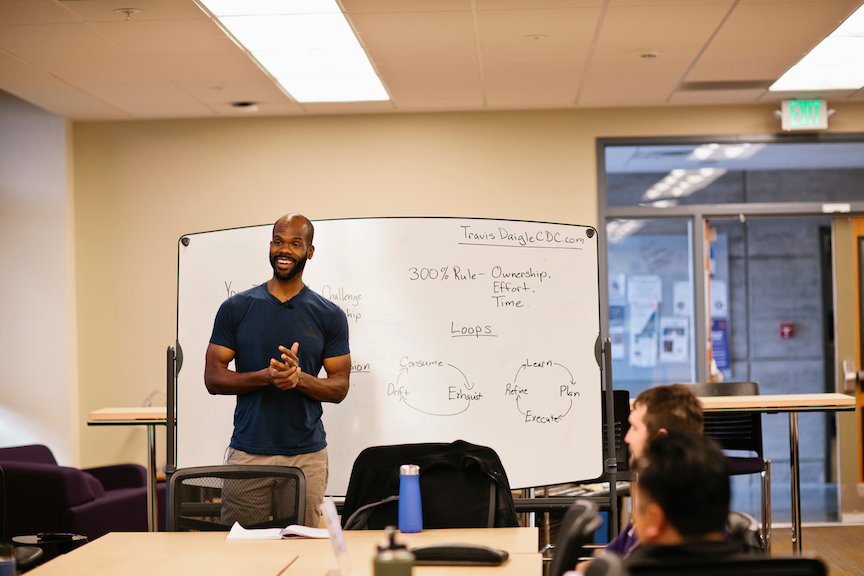 Now back in civilian life and working as a character development coach, Daigle sees too many people succumbing to a phenomenon he calls "instant gratification nation."
   He believes there's a better way to achieve authentic fulfillment. He encourages his clients to hold themselves 100 percent accountable for the condition of their lives – no excuses – and then build from there.
   This may sound intense, but Daigle is living proof that this approach works – with respect to health, resources, relationships and work.
   "Your brain's a tool," Daigle says. He advises starting with constructive self-talk, using repetition, and – those of you who make lists of New Year's resolutions will like this – writing goals down. 
   Cultivate your mindset, Daigle promises, "and you'll climb whatever mountains you want to climb."
To learn more about Travis Daigle's motivational podcasts and to see his TEDx Tacoma talk on resilience, visit https://travisdaiglecdc.com/
Barbara Lloyd McMichael is a freelance writer living in the Pacific Northwest.