President Donald J. Trump has emphatically used the expression Fake News to trounce the free press and to deny the important role they play in safeguarding our democracy. He has asserted that he uses Twitter to speak directly to the people so the so-called Fake News Media doesn't distort his message. Yet, it's with great interest that I can share some real news with you: the majority of Trump's followers @realdonaldtrump are Fake. A screenshot is included here to show you an example of his following.  One screen shot is hardly conclusive so we took many more screenshots to support our position and will make them available to press on request.
Eight Traits of Fake Twitter Followers. If you go immediately to @realdonaldtrump on Twitter and click on his followers, begin scrolling you will see page after page of Fake Twitter Accounts. How do you know these followers are Fake?
They do not have a real person's name.
They do not have a profile picture.
If they do have a profile pic it is often weird: (soft porn, an animal or a child).
They do not have a website as a reference.
They have hardly tweeted, or not tweeted at all.
They have very few followers and are following few.
Often the account names sound Fake.
Many fake followers are Russian, Middle Eastern, Eastern European and Asian.
Go to @realdonaldtrump right now! Take as many screenshots as you can. Knock yourself out. 
As of today, August 18, 2017, @realdonaldtrump has 36 Million+ followers. Based on our observation, his genuine followers tweet frequently, and are as loud and often as destructive as he is, but there are not nearly as many of them as he would have you believe.
How do you inflate your Twitter following?  @realdonaldtrump is not alone in his abuse of Twitter. There are other public figures who falsely inflate their following. Inflating your Twitter following is easy.  In the P.R. business, we refer to the practice as Twitter herding.  There are numerous services offered on the dark web that will increase the number of your followers with fake accounts if you pay them money. Public figures are not the only users of twitter herders; professionals of all types resort to using Twitter herders to give the impression that they are BIG influencers. Twitter herders propagate Twitter followers the same way black hat SEO tactics generated content farms and false links to boost websites' search rankings on Google. 
If you think growing a following on Twitter is a sign of great success, think again. Any time you see someone on Twitter who has a huge following and is following very few, there is a good chance many of their followers are Fake, and they have not done the work to build an authentic community. For example, @realdonaldtrump has 36 Million + followers, but he is only following 45 people. It's his his way of saying: I am so important that I only want followers. I do not need to follow anyone.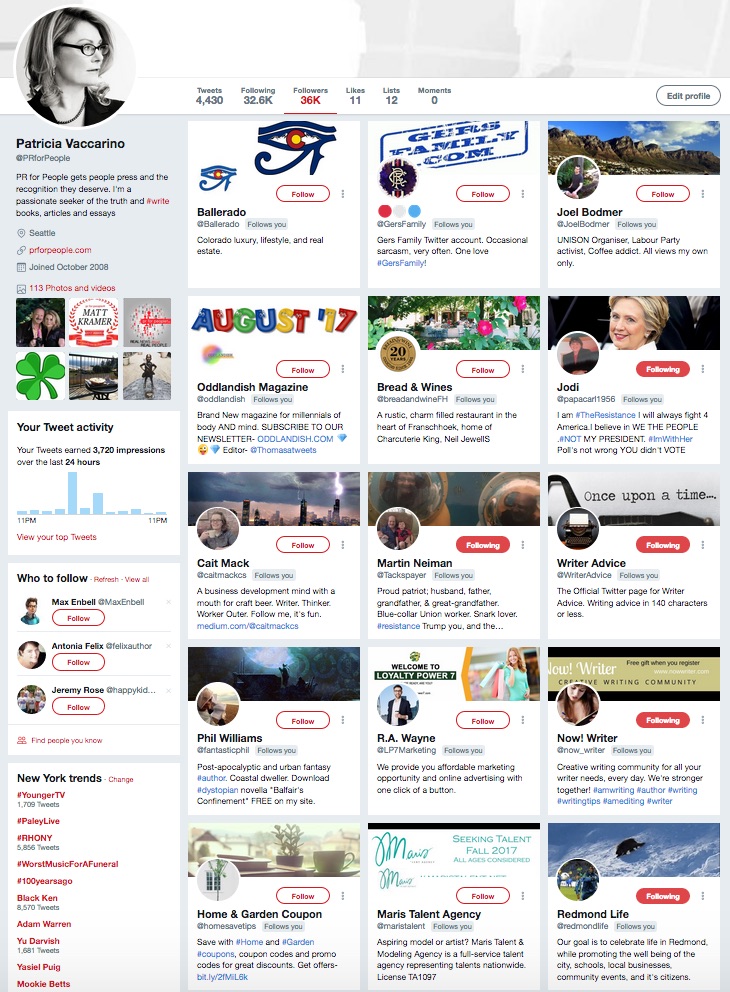 At @PRforPeople, we view Twitter as an efficient way to disseminate news, and we have worked very hard to build an authentic following of 36 thousand. Twitter is a rich source of a late-breaking news. The number one user of Twitter is the media—the genuine media. Another great reason for people and businesses of all sizes to use Twitter is to obtain "intelligence." Anyone who is seeking information will find a treasure trove of news, new ideas, new companies, fascinating organizations & causes, products and services, all of which are communicating on Twitter. There is a lot of junk on Twitter, but if you take 15 minutes a day to explore businesses, people, issues, politics, and trends, you will gain hard-won, verifiable knowledge that cannot be found anywhere else on the Internet.
Our advice to you: Build your following to be a genuine community-of-interest, composed of real people who want to hear what you have to say.  What's the point of hiring Twitter herders to pump up your numbers? Why bother having lots of followers if no one is really listening to what you have to say? Don't be fooled by any person or entity that has a large Twitter following. Check out their following and apply our eight traits of a Fake Follower.
Don't forget to submit your news articles to our Matt Kramer Award that recognizes excellence in Journalism.  Here are the guidelines. Deadline is August 31, 2017.
About PR for People® 
Patricia Vaccarino owns the internet company, PR for People®, where people share their news with the world. Through its monthly magazine "The Connector" and its news portal, PR for People is committed to telling real news stories about real people.  Patricia Vaccarino has written award-winning film scripts, press materials, content, books, essays and articles.